Preparing your home for a new arrival in 2016
Posted on January 29th, 2016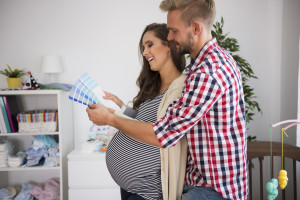 'By failing to prepare, you are preparing to fail.' Benjamin Franklin
Most people have heard this quote but make no mistake having a baby is hard…wonderful, but hard. As soon as you find out that you or your partner are pregnant then your world shifts into a new gear. You instantly go into preparation mode with regards to looking at your finances, your job and looking at the suitability of your home for a new baby and planning for the future.
Your baby will become the centre of your world and his or her safety and comfort will become a priority in everything that you do; where will your baby sleep, is he or she warm enough, safe, is there room for all the bits and bobs you inevitably need like a changing table, cot, play mat etc.?
So what do you need to plan for?
Well let's start with his or her room. You will need to consider the wall colour, do you go for the traditional blue or pink or be different and go for neutral yellow, green or beige? The range of baby room wallpapers is endless giving new parents a huge choice of designs other than the traditional paint colours. Check out these tips from Dulux UK for creating a neutral but very stylish bedroom or nursey for you child.
Lighting is also important to consider as you and your baby are going to sleep at all times of the day and night. A good black out blind is a must with the essential safety chord fitted well away from baby's reach. A dimmable light is also a good idea to create a calm environment especially if your baby doesn't like the dark.
When your little one is born you may be lucky enough to be inundated by lovely gifts from friends and family. Toys, clothes, accessories for their room will all need storing so you will need to work out where it's all going to go. You will be amazed at how quickly your home gets messy with children so make sure you have a place for everything and plenty of extra storage for the hundreds of plastic noisy toys they will acquire.
Consider the space you will need for the baby furniture essentials such as changing table, cot, nappy bin, book shelf and toy box. You will need a whole cupboard dedicated purely for essentials such as nappies, wipes, muslin cloths, sudocream, calpol and infacol to name a few staples. Why not take a look a JoJo Maman Bebe for a range of baby items with touch a design inspiration, we particularly love their muslin cloths.
Let's move to the rest of the house? You may not know this but having a baby means you spend a lot of time on your hands and knees! Babies need changing a lot in the first few months and a changing table is not always to hand so you end up changing your baby on your sofa and more commonly on a changing mat on the floor. In a matter of no time they will be rolling over, crawling, shuffling and eventually tottering around constantly on the verge of falling. So consider this….are the floors nice and comfortable or smooth or protected to assist your little baby when they are learning to crawl and walk. Hardwood floors or tiles are a great idea in terms of cleanliness but not always the nicest surfaces to kneel on or crawl on so maybe you need to consider some nice soft rugs or even carpeting? A carpet can also protect their tiny knees or head should they fall after their first steps.
Now babyproofing is an ongoing and relentless task in your baby's first few years of life. You are going to need to move so many of your beloved items such as breakables and expensive technology. Don't become one of those parents who moans about how toast got posted into your PlayStation, milk got sprinkled into your skybox or how your £1000 flat screen got permanently scratched by their 2 year old's juice cup! Anything and everything will need to be positioned out of reach; gates will need to be put on stairs, top and bottom and in some instances on kitchen and bedroom doorways! Socket covers placed on all sockets to prevent the inevitable poking of pencils, lego pieces and forks into tempting electrical socket holes. Door locks will need to be fixed on all cupboards containing hazardous cleaning products…and biscuits. You can pretty much buy anything you need off the internet for securing your home from unwanted access.
So now that you have decorated, decluttered, baby proofed and nested fully, you are ready to deal with whatever your little darling has to throw at you knowing that you planned for every eventuality….or did you? There is no way anyone can fully prepare you for being a parent as everyone's experience is different but for many new mums and dads it will rank as being the most amazing, stressful, exciting and overwhelming experience of your life.
Blog page
Older Posts
Newer Posts