No unwanted costly surprises
Posted on November 27th, 2015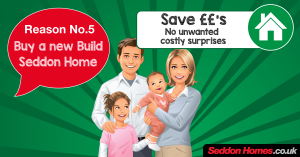 Did you know that buying a new build home can save you money? According to the Home Builders Federation in a recent study* a second hand property can cost nearly £45,000 to upgrade to new build specifications! Many people don't account for these sky high costs when buying their next home.
Don't worry though as Seddon Homes has the solution for you and it's simple! Buying a new build home offers you peace of mind that it won't need upgrading as it has already been completed to the highest specification and it also includes modern appliances that won't need replacing in the long term. You will also be safe in the knowledge that your brand new Seddon home meets certain standards and has been given the stamp of approval by an independent standard-setting body such as the NHBC or LABC.
Buying a second hand home may seem like a good option at the time but there is likely to be an array of problems that unfold and upgrading your home can become a necessity rather than a choice. So, what are the potential upgrades you will have to spend your hard earned savings on when buying a second hand home and where is the extra money being spent?
Guttering and insulation (£9,412)
Decorating (£4,800)
Re-wiring (£3,200)
New bathroom (£4,500)
Double glazed windows and doors (£6,150)
New flooring (£3,286)
New central heating (£4,403)
New kitchen (£7,645)
With these extra costs unaccounted for when buying a second hand home, it is obvious that buyers should have a think about whether a new build is the better option in the long term. Let's not forget that there are also cosmetic reasons for buying a new build property that will help you to turn a house into your new home!
A blank canvas — new builds give the option to add your own tastes and character to your new home. This isn't the case with second hand homes as it is likely that you will find yourself living with somebody else's style which can be costly to change.
Work with the builder — When you buy a new Seddon home you will have the opportunity to work with the builder and Sales Advisor in the construction of your new home (depending on build stage). Isn't that great? Imagine living in a home that you have seen throughout the entire building process.
Save money — The money that you will save from buying a new build home can be injected into your house to create that perfect style that you and your family will love.
As you can see the benefits of buying a new build Seddon home are vitally important to consider as you will be reaping the benefits well into the future.
Don't settle for second best, instead buy new, save money and enjoy your new build Seddon home.
*Based on independent figures for an average 3 bedroom semi-detached house.
Blog page
Older Posts
Newer Posts