Why buy a new build home reason number 6 – It's built for modern day living
Posted on January 22nd, 2016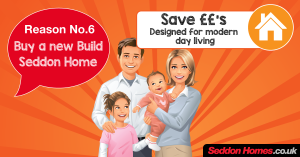 When asked this question what would you say?
For many the answer is 'it's easy!'  It's the ease of moving in to a home that needs nothing doing to it except maybe a touch of decoration to add your own personality.  Everything is brand spanking new, from the windows, roof and walls to the plastering and flooring.  All the fixtures and fittings are good quality, fitted professionally and designed for modern day living.  There are no nasty surprises…
There is no clearing out of other people's stuff that's been left behind, there is no scrubbing of the previous owner's kitchens or bathrooms and discovering unwanted problems with the home that were previously hidden during your earlier viewings. Plus, there is also no living with someone's questionable taste until you have the time and money to redecorate.
Moving in to a new home is exciting from start to finish.  Occasionally, you may be able to secure added extras in a new build including designer furniture, carpets and curtains, so you just have to move in your toothbrush and start living. Seddon Home's builds have carefully considered modern needs in the design and build process to ensure living in your new home is a joy.  New builds are designed to be low maintenance enabling you to spend time enjoying your home and not worrying about anything such as repairs or reconfiguring!
Another big reason why people love to live in a new build home is for environmental reasons.  Not only do new homes use greener materials in their construction, which help keep the heat in and cold out, but this also has the knock-on effect of reducing energy bills, bringing down the cost of living in your new home.
Modern building regulations state that all the windows, doors and insulation must meet strict government guidelines which far surpass the builds of years gone by.  Almost half of the UK's carbon emissions are caused by buildings and the government's long-term goal is to reduce CO2 emissions by 80 per cent by 2050*.  Say goodbye to drafts, damp and mildew and say hello to the warmth, temperature control and the lower bills that a new home offers!
We now live our lives very differently to how we did 20 years ago.  We live at a faster pace, technology is now ingrained in every part of our lives from work, our cars and especially in our homes, helping us save time and do things more efficiently. People want and need things to be easier, from how they use their kitchens, park their cars, keep an eye on their children, so new homes are designed specifically with this in mind.
The trends in home buying reveal that buyers are looking for properties with lots of light, a feeling of space, hidden storage and a modern configuration such as downstairs cloakrooms, en-suite bathrooms and a kitchen diner etc.  Your home is expected to be a haven, a place to get away from the stresses and strains of modern living.
New builds can offer buyers stylish and innovative designs plus the convenience and comfort of modern expectations.  You are in safe hands with Seddon Homes who are always looking at new ways to keep up with buyers needs and expectations as well as ensuring the quality of their new build homes shines through with over 25 years' experience in the industry.
* GreenWise is an independent daily resource and information service supporting UK businesses in the growing green economy
Blog page
Older Posts
Newer Posts