A delightful dinner party with Seddon Homes
Posted on May 29th, 2015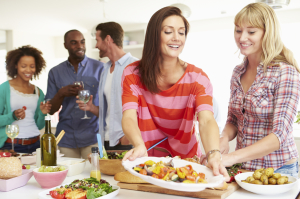 With summer fast approaching and the nights getting lighter, the dinner party season is upon us. Whether this be a lavish dinner party inside or a more casual meal outside on your patio, gathering your friends/family is the perfect opportunity to show off your property.
We love a dinner party here at Seddon Homes and our contemporary homes are the perfect setting to crack open a bottle of bubbly and relax with some hors d'oeuvres.
So, your dinner party is nearly here, have you planned out the evening? If not or if you need a few ideas to make your night a success, we are here to share our top tips.
Failing to prepare, is preparing to fail
We've all seen Come Dine With Me and know that they usually get their night horribly wrong, but by preparing in advance you will not be fazed on the night. It is important to prepare your food in advance if this is possible, but you should also plan other aspects of the night before your guests arrive.
Make sure that your table is beautifully set, introduce candles and flowers that complement the colours around you and if outside bring the garden to the table by picking a few flowers to display.
We pride ourselves on the presentation of our show homes, so why not take a look at our room designs for inspiration on how to impress your guests. Our open plan kitchens and family rooms provide an abundance of space for preparing each course and high specification extras such as integrated fridge freezer make storing your items for later a whole lot easier.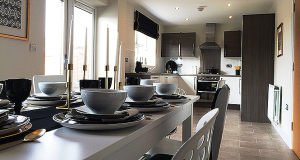 Don't forget the theme
Are you having a theme? Black tie maybe? Whatever you have decided for the theme of your event it is important that the rest of your home and garden rejects this. We aren't saying you need to hire a butler — but simply by putting things away into storage, pruning your garden a little and adding a few accessories around the home, will create a sense of calm and your guests will feel that they can move about with ease whilst taking interest in your home.
Use your home to your advantage. What colours, carpets, wallpaper and accessories are you using around the home that can be woven into your theme? Take a look at the blacks and golds found in the chic show home master bedroom at our Hammond Rise development. These colours create a luxury feel which is perfect for a black tie dinner/theme and will impress your guests.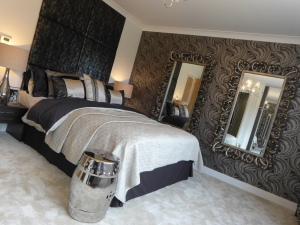 Find out as much as you can before hand
Getting the food right is always the tricky part at any dinner party, there's so much to think about. Find out beforehand what people will eat and what they won't. Let's be honest, it wouldn't go down well if you cooked steak for a party of vegetarians, now would it? Be prepared and always have a backup plan.
If you are stuck for inspiration on vegetarian dishes, gluten free foods, dairy free etc, you should check out a variety of food blogs to give you some ideas. If they still don't like the food, then it may be your cooking (just kidding).
Communication is key
A successful dinner party has one major ingredient to make it a success — communication. By conversing with your guests in a relaxed environment and introducing them to other guests you will create a positive atmosphere.
Why don't you take your guests through to your garden, offer them some champagne and a few snacks (weather permitting obviously)? All of our gardens provide a beautiful, spacious area for entertaining with the option of adding your own stamp through plants, trees and garden accessories. Allow your garden to catch the imagination of your guests, make it a talking point and your night should begin on the right foot.
Now let's get to the food
Begin by offering some light bites/appetisers when your guests first arrive and that all important glass of fizz. If we were hosting a dinner party we would go for simple things like tuna melt canapés to get the taste buds excited and we are sure your guests will love these. You could also go for the classic bread and oil or small snacks that can be dipped during a drink and conversation.
Allow your guests 15 minutes before the starter is ready to settle themselves at the table. Use accessories around the room to show creativity, don't overpower your guests with lots of table pieces; a few candles and a nice flower centrepiece is enough.
The starter itself should be enjoyable, not too filling but bursting with flavour. If it is a black tie dinner party why don't you try classic, homemade fishcakes for example? These are easy to prepare beforehand but make a real statement when created to perfection.
Onto the main next. It's best to cook something that you have made before, try not to go completely out of your comfort zone unless you are confident with your abilities. A beautiful piece of meat is always a great option (depending on your guest's eating habits) but you could also try to add a little spice to the evening with a homemade curry, rice and naan bread. Whatever you choose, we are sure your guests will love it.
Finally, have you thought about the dessert? Chocolate is always a winner! A great idea is to go for the classic chocolate brownie and ice cream, simple but irresistible. Don't forget to have a fruit based desert for those who are looking for the healthier option.
We all need a bit of entertainment
Finish the night off with a bang! Entertainment is essential for any dinner party as you want your guests to have fun. Make it something to be remembered, but don't go too overboard as this can embarrass your guests and they might not want to be involved. Why not invite a magician to show off some of his tricks or create some light hearted games of your own?
A great idea would be to invite your guests into your stylish lounge, maybe provide them with some after-dinner coffees and mints or keep the party going with a gorgeous bottle of wine and a cheeseboard. Create a comfortable atmosphere for guests using cushions, lights and chilled out music.
All Seddon homes provide a lounge perfect for entertaining and they show off the high specification finish of these homes.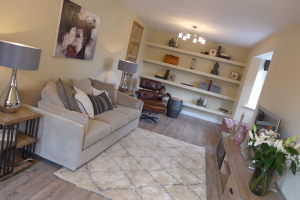 We hope that you will use some of these ideas when creating your next dinner party. Show off your home, your hosting skills throughout the party and make it a night to remember.
Blog page
Older Posts
Newer Posts