'Fill your boots' with £500 of vouchers when you reserve a new home in Alsager
Posted on October 3rd, 2015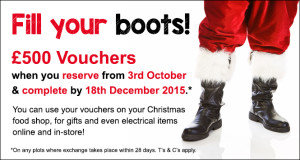 The Christmas dash has already begun and Seddon Homes is ahead of the game!
Are you looking to move before Christmas? If so, then Seddon Homes have just the answer! Their new build 3, 4 and 5 bedroom homes in Alsager are perfect for all buyers and with fantastic initiatives available including the Government backed Help to Buy scheme, you can be enjoying Christmas dinner with your family this year at Limeare.
Seddon Homes is also offering £500 of vouchers when you reserve a new home at Limeacre from 3rd October 2015 and complete by 18th December 2015. Seddon Homes would like to give you something extra for reserving your contemporary new property in Alsager this Christmas as a little thank you!
This is a fantastic opportunity to secure the home of your dreams and still have extra cash available for the festive period, which as we all know can be an expensive time of year. So, whether you use your vouchers online or offline, on your Christmas food shop, gifts for the family or something electrical, you'll have peace of mind that you aren't spending your hard earned cash.
Limeacre boats generous accommodation as well as German rigid built SieMatic kitchens that can be yours from only £231,000 or £184,800 with Help to Buy. Each home has an enviable kitchen, spacious lounge area for entertaining, relaxing bedrooms and they are packed with design features that will attract even the most discerning home buyer.
Denis Maddock, sales and marketing director at Seddon Homes, is looking forward to a busy lead up to Christmas and is happy that their customers will be benefitting.
"Christmas can be an expensive time of year, so we want to give you something back. We feel that £500 of vouchers is the perfect thank you for buying a new Seddon home and can also make a huge difference to you and your family this Christmas".
Join Seddon Homes this weekend at Limeacre for their 'Get Moving' event to discover how you can begin your home buying journey whilst also taking advantage of their limited time offer to 'fill your boots' this Christmas. Alternatively you can call us on 0845 456 3687.
*Terms and conditions apply. Ask your Sales Advisor for more details.
Blog page
Older Posts
Newer Posts