Makeover your home to sell
Posted on January 19th, 2015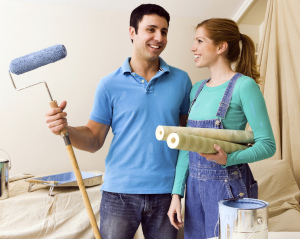 Selling your home doesn't have to be a struggle at this time of year. With the distractions of Christmas now out of the way, early 2015 is the perfect time to prepare your home to sell. If your home is on the market already and struggling to sell or if you have decided that 2015 is the time to make a change and buy a new home, then we are here to help with our 'makeover your home' top tips!
Don't forget who the potential buyers are
It's important to remember who you are trying to sell your home to. You should have an understanding of the types of people who may want to buy your home, whether that be a large family, a young couple or a professional, you should tailor your home to meet their needs.
Take a young, career focused professional couple who are first time buyers as an example target audience. What you could do to appeal to them is turn your guest bedroom into an office, highlighting that the room has a multitude of functions. Remember, don't alienate groups of buyers, instead think practically and ask yourself, 'what do my buyers need in their home?'
Spruce up your home's exterior
Some buyers will judge a book by its cover, so if your home isn't looking fresh and clean on the outside it is going to be a struggle to get them through the front door.
With this in mind you should think about fixing anything that may be damaged, like that broken gutter that leaks when it rains. Why stop there tough? You may want to spruce up a few areas of your homes exterior with a little paint, such as your garden fence which needs a new lease of life as it is looking old and worn out. A potted plant or hanging basket will look great next to your front door, so you should definitely go that extra mile and highlight your homes features!
Finally, don't forget the garden! This space is a necessity for the majority of buyers and is seen as an extension of the home, so make sure you show yours off. Put away all of the kid's toys, give the lawn a mow and cut back that hedge. Make your garden a paradise, somewhere that new homeowners can picture themselves sitting in during the summer whilst entertaining the neighbours.
Spring clean and declutter
There is nothing worse than entering your potential new property and being greeted by a mess, clutter or even a bad smell from last night's old pizza boxes. Don't fall at the first hurdle, instead make sure that everything is tidied away and out of site, that includes doing the washing up.
Selling your home is the perfect opportunity to declutter. Rather than just tidying your items away so that they are out of sight, you could throw things away that won't be used again or even better, you could donate them to charity. If you do this when you are planning to sell your home then it will make your move into your new a home a much easier and more efficient task, giving you more time to sit back and relax.
Offering a clean home to buyers makes all of the difference, so have a dust around and vacuum every nook and cranny before your potential buyers arrive, a last minute clean can really help make a difference.
The photos have got to go
Buyers don't want to see the beautiful family photos, so depersonalising your home is very important. As cute as the photo of your dog is that's hanging as you go up the stairs, it isn't what buyers are looking for and it will put them off.
Buyers need to be able to picture living in your home, so unfortunately the photos have got to go, for the time being anyway. Try to encourage your homes personality, rather than forcing your tastes onto other people which will put them off.
Hold back the pets
As adorable and house trained as your pet may be, having them in the home or the garden during a viewing can put buyers off. Yes, we agree that there are plenty of animal lovers out there, some could be the potential buyers of your home, but the majority of people will be distracted by your pet, which we don't want!
A great idea would be to ask your neighbour to look after your pets during the viewing, but give yourself enough time to eradicate any smells and unwanted fur before your potential buyers arrive. It's also great to hide bowls, toys, beds etc, which your animals may use as it can be off putting for some people knowing that animals live in the home, especially if they are allergic.
Accessorise don't compromise
Accessorising is a great way to make your home stand out from the crowd that little bit more, without having to go overboard. Some fantastic ideas include:
1. A rug can be a fantastic addition to a lounge area as they are comfy and have the ability to make a home feel cosy.
2. Diffusers should be added to the home to rid any unwanted smells and they also add delicate fragrant scents to make your home more inviting to potential buyers.
3. Hanging baskets or plant pots at the entrance to your home is also a great tip as they brighten up the look of the home making it more appealing.
4. Don't forget to update any door knobs or handles, mirrors etc if they are looking past their best. This small improvement will affect the look a feel throughout your home.
5. If you want improve your gardens appeal you could purchase some inexpensive furniture or even better, why not borrow a patio table and chairs.
Hopefully, these top tips will be of great use to you. If you would like any more inspiration please visit any of our many stylish show homes in the North West, Midlands and Yorkshire.
Blog page
Older Posts
Newer Posts