Tips from the new homes interior designers for first-time buyers
Posted on March 20th, 2015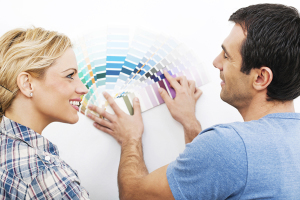 Seddon Homes brilliant design team is working effortlessly to make their new build homes stand out from the crowd in 2015! In particular, their interior designers are able to turn a house into a home through their unique and inspirational ideas. With new housing developments across the North West, Midlands and Yorkshire it is vitally important that Seddon Homes can capture the personality of potential buyers who walk through their show home doors.
Designing the interior of a new home when you first move in can be a struggle, especially if you are on a shoe string budget. With this in mind, we have created a few top tips from our designers to help you put your stamp on your new home.
Create mood boards
Mood boards give you the opportunity to focus your thoughts on each room in your home individually. Look in magazines, collect paint and fabric samples when you are out, so that you can compare and contrast between the options that you like. Mood boards offer you the opportunity to mix and match colours, fabrics, accessories etc, before purchasing them and rushing in to any decisions.
Why don't you create your own mood board on Pinterest? Pinterest allows you to create visual bookmarks of your favourite colours, textures, pieces of furniture, wacky ideas for home design etc. You can make boards for whatever you wish and this will help you to unleash your inner interior designer!
Accessories
When you enter a room you notice the usual colours and furniture that you would expect from a bedroom or lounge area, but what grabs your attention are the unique accessories.
By accessorising you can turn your ordinary room into a room that has the wow factor! These accessories don't have to be wacky (they can be if you wish) but they need to complement each other and the room. Why not add a quote to your kitchen wall, 'the kitchen is the heart of the home' for example, or add an arrangement of scatter cushions to the sofa. If you are stuck for ideas then look at some of Seddon's own designs for inspiration. Whether that be the rabbit on the kitchen wall at Brookfield, Coppull, or the robot themed kid's room at Shire Croft, Mossley, there really is no limit to what you can do!
Art
Every room needs a focal point, somewhere to grab the eye as you enter. A piece of art can do this, in particular a painting can be the perfect addition to a room if selected correctly. A painting will add colour and character, making the room feel homely and lived in.
A little tip from me to you is to choose a painting that will add to the room but not take away from everything else in the room. If your room is green/blue then make sure your painting also has these subtle colours in it, so it doesn't stick out like a sore thumb.
A piece of art shouldn't be too big that it is overwhelming and isn't too small that it doesn't grab the attention. Selecting the right piece of art is the tough bit, but if done right it will benefit your room no end.
Lighting
Let there be light! Light can definitely give your home the edge over others as it emphasises the best aspects of a room. Whether this be natural light or not, it enhances the aesthetics of a room as it can make it feel bigger in size and warmer/more inviting.
If you want to add more light to a room then standing lamps, table lamps, overhead lights, spotlights etc, are perfect additions to a darkened room. It's important to place these in areas in which they will add something to the room e.g. next to a sofa for reading at night, rather than them taking up space and not adding anything to the feel of the room.
Colour Schemes
As I have already mentioned, getting the colour scheme right is key to designing your perfect home. Colours have the ability to lift the mood of a room and by using colour schemes that work together you can keep a room's positive energy flowing throughout the home.
The colour of 2015 according to Pantone is the elegant Marsala. Marsala is a relatively dark, earthy red wine colour that would look fantastic scattered around a room or as a feature wall. It is believed that this colour can enrich our mind, body and soul through its unique and highly appealing tones.
Why not bring your home into 2015 with Marsala, a colour which will be used throughout the fashion, design and beauty industries this year, captivating audiences worldwide.
Be Inspired
Remember, everything can be used as inspiration! If you see something when you are out, take a photo of it and add it to your mood board, it's easy to do and it's practical. When you visit other people's homes have a look at what they have done to add their stamp onto their home, this will fuel your thoughts on how you can add personality to your home.
The internet is a great place to be inspired as there is an abundance of material that can help to get the juices flowing. Why not have a look at the Dulux website to get inspiration for your homes new colour or Pinterest to look for designs that have been shared by others, the internet is a great source for practical or the wackiest ideas imaginable. Remember to keep an open mind when looking for inspiration as sometimes the smallest, most unique items, designs, and colours can be the difference in creating a standard room and giving it the wow factor.
Don't forget to look at the Seddon Homes website to help you with your interior designs. These tips have been created with first-time buyers in mind, but they can help all buyers with a variety of budgets who are looking to add their own stamp onto their new build home.
Blog page
Older Posts
Newer Posts