New homes developer names 'Sales Advisor of the Year 2014'
Posted on February 20th, 2015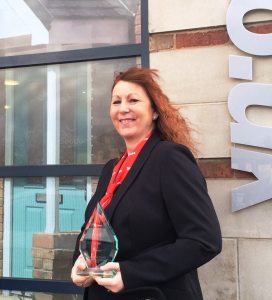 Congratulations to Suzanne Jones on winning Seddon Homes' Sales Advisor of the Year 2014. This award is in recognition of Suzanne's enthusiasm and general cheery nature towards home buyers as she has guided them through their journey at Bridgefold in Rochdale.
All of Seddon Homes' Sales Advisors were in with a chance of winning this award so it was decided that they would be marked out of 10 to find the winner. The areas of interest were:-
– Sales performance
– Contract chasing
– Customer questionnaire feedback
– Administration and report protocol
– Enthusiasm and attitude
Each Sales Advisor was marked by three judges in the areas highlighted above without collusion. Once the scores had been verified it became apparent that Suzanne had won this prestigious award. Together with receiving the coveted Seddon Homes glass trophy, she was also gifted a £100 voucher to spend at any San Carlo restaurant of her choice.
This award was just a little 'thank you' to the Sales Advisors for all of their hard work. Seddon Homes understands that competition can be high between Sales Advisors, so this award demonstrates that their hard work is appreciated. Suzanne's victory shows that going that extra mile to help a customer really does make all the difference.
Denis Maddock, sales and marketing director at Seddon Homes feels that, "Suzanne was a deserving winner for diligently conducting herself in a professional manner and positively managing customer expectations".
"Suzanne has made Bridgefold a huge success and a development that we are very proud of. Suzanne's energy and enthusiasm have really paid off and we know that she can be relied upon in all aspects of her work".
So, with another year completed and another busy year underway, the question is, who will be Sales Advisor of the Year in 2015? Only time will tell.
Blog page
Older Posts
Newer Posts