New homes development in Alsager and a new recruit for Seddon Homes
Posted on April 29th, 2015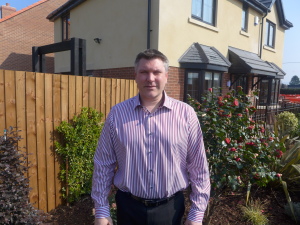 Seddon Homes recently opened Limeacre, their brand new homes development in Alsager. Limeacre is a development of 3, 4 and 5 bedroom homes that have been constructed with lashings of creativity and innovative designs.
Spearheading this beautiful new homes development is Seddon Homes' newest Sales Advisor, Yannick Malbeouf. With Yannick at the helm, Seddon Homes are anticipating Limeacre to be one of their most popular housing developments to date.
Seddon Homes pride themselves on being an organisation with a close knit team that support each other, so without further ado let's introduce the man of the hour in a little more detail.
A little about Yannick
Born in Toronto, Canada, Yannick has a great story to tell. He moved over to live in Congleton with his British wife 3 years ago. He has built himself a wonderful life in this fantastic village which lies in the East of Cheshire and is only a stone's throw away from his new place of work, Limeacre. With many pastimes available to him, Yannick usually finds himself out in the countryside with his family or professionally playing the trombone.
Yannick's experience before Seddon Homes
With a large amount of experience in the new homes sector, Yannick is looking forward to starting the next chapter of his life with Seddon Homes at Limeacre.
He has acquired an array of key skills throughout previous roles that will make Limeacre as successful as it can possibly be. He has a great awareness of what customers are looking for and has an approachable personality, which, put together, are making Yannick a hit with potential buyers in the Alsager area.
Why choose Seddon Homes?
So why did Yannick choose Seddon Homes? He feels that their reputation of being a high quality housing developer was a major factor. He has also worked for larger new home builders in the past and therefore, felt that joining a smaller developer with a family feel who focus their energy in the North West would be a positive change for his career.
"I had heard a lot about Seddon and their previous builds in the area which were very successful. The people that I have spoken to at Seddon are very accommodating and are always there to help".
Why Limeacre?
Yannick feels that Limeacre is an amazing development that is ahead of the competition. He also believes that he is perfectly suited to Limeacre as he has a "large amount of knowledge about the Alsager area as my wife's parents used to live here, which meant regular visits to this gorgeous village".
This valuable knowledge makes Yannick a great fit for Seddon's stylish new homes development. This is a great opportunity for both Yannick and Seddon Homes as he knows the area well, it's attraction to people and understands how to cater for the needs of potential buyers.
Yannick commented that, "there has been a lot of interest in Limeacre, which was inevitable as the build quality of these homes is very high, as seen on all Seddon builds and Alsager is a fantastic area for all buyers."
So if you trying to find your perfect new home in Cheshire, then let Yannick guide you through your home buying journey.
Best aspect about the show home?
The Ilkley show home at Limeacre is a 4 bedroom masterpiece with an abundance of imagination seen in its creation for example, the Minecraft inspired children's bedroom. Yannick is very excited about the potential buyers visiting this show home as it is unique and stands out from the crowd.
Denis Maddock, sales and marketing director at Seddon Homes commented on their newest recruit.
"We are thrilled to welcome Yannick, with a strong background in the new homes sector and a positive work ethic, he will benefit our Limeacre development and strengthen the Seddon Homes team".
Limeacre has seen plenty of interest since it's unveiling in Cheshire a few weeks ago. Yannick and the Seddon Homes' team are looking forward to the success of Limeacre continuing over the coming weeks and months.
Now that you have been introduced to Seddon Homes newest team member, you can meet him in person between 10am and 5pm Thursday to Monday. Yannick will gladly introduce you to the range of homes available at the development, however, if you cannot make it to Limeacre then please call the development on 0845 456 3687.
Blog page
Older Posts
Newer Posts