Seddon Homes mascot, 'Seddy Teddy' completes the London Marathon
Posted on April 30th, 2015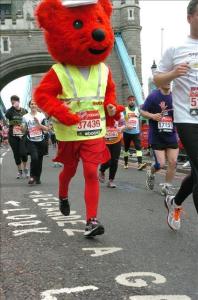 On Sunday 26th April 'Seddy Teddy' ran the London Marathon in a fantastic time of 4 hours and 58 minutes.
Jonathan Seddon, managing director at Seddon Construction, put on the costume for the day in his bid to help raise funds for The Christie charity, a specialist hospital for the treatment of cancer and CRUK, whose pioneering research aims to help beat cancer sooner. These are two brilliant charities who we are happy to support in any way we can.
We would like to say a huge congratulations to Jonathan for the massive effort he put in on the day, the money he raised and finally for getting 'Seddy Teddy' over the finish line.
Blog page
Older Posts
Newer Posts