Making the most of your garden in the winter months
Posted on February 5th, 2015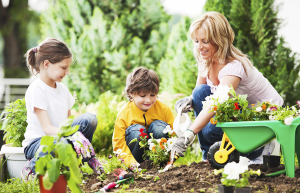 We don't just want to provide our customers with a stylish new home in 2015; we also want you to enjoy the great outdoors in your new garden. It is understandable that with a new year, new ideas about how you can enhance your garden are on your mind. The great thing about moving into a new build Seddon home is that your new garden is a blank canvas waiting for you to add your own creative touch.
The weather may not be kind to us during the early months of 2015 but this should not stop you from putting on your gardening gloves, dusting off your trowel and getting out into the garden. If you want to put your own stamp onto your new garden then now is the time to start planning.
In the winter months gardening can be difficult, but with small additions of selected flowers your garden can shine in the winter's sun!
One tip from me to you is to plant the gorgeous Pentas lanceolata, also known as Egyptian Starcluster throughout your garden. This species of plant really does catch the imagination with its luscious brightly coloured flowers and protective green foliage which is of interest all year round. These gorgeous plants are usually included in butterfly gardens, which are becoming increasingly popular. Butterfly gardens are crafted with the sole purpose of creating an environment that attracts butterflies and insects to encourage reproduction.
Whichever species of Egyptian Starcluster you choose, they are sure to add an array of colour to your garden throughout those cold winter days and into spring, leaving your garden looking fantastic right through the year.
A second tip to add some character to your garden is by planting the striking Primula plant. With a range of species available, the Primula can be found right across the world. It is very easy to mix and match as it comes in a variety of pastel shades including reds, pinks, blues, purples and whites so you are sure to find the perfect look for you.
The Primula is the perfect addition to your garden throughout the colder months as it does not have a preference to where it can grow, whether that be in the sunshine or in partial shade. It is important to remember that if potted, the Primula should sit in multi-purpose compost and watered regularly to prevent it drying out.
Both plants discussed will complement each other, with their gorgeous flowers and array of colours your garden will be the envy of all of your friends.
Seddon Homes has a range of new build homes across the North West, Midlands, North Yorkshire and Humberside – with their own gardens that can be pruned to your heart's content!
Blog page
Older Posts
Newer Posts